Matt Barnes vs. Luke Walton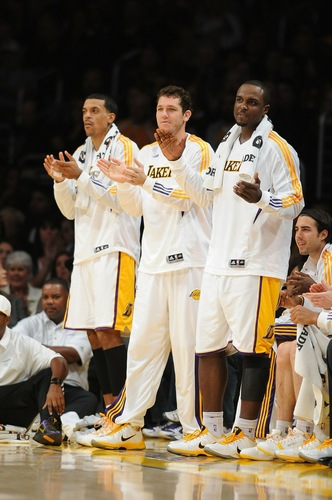 Yes, I'm aware that Luke Walton still plays for the Lakers. That being said, with Walton mostly out of the Lakers' rotation last season due to injury, there wasn't ever a legitimate sub-in to provide Artest with any rest. If Artest needed to take a breather, Jackson would move Kobe Bryant to the wing and insert Vujacic or Brown and the two-guard. Not that it caused Bryant to be any less effective, he's perfectly capable of playing at the three-spot, but being over-worked isn't always conducive to maintaining fresh legs come playoff time.
Insert Matt Barnes and almost instantly the Lakers' problems backing-up the wing were solved. In fact, Barnes pre-injury was doing so well that some people thought the Lakers would be better off putting him in the starting lineup and having Artest come off the bench. That was mostly due to Artest going through a funk, but he's worked his way out of it for the most part since the All-Star break.
Now all Barnes has to do is provide a spark off the bench, spot-up and hit a few shots while providing a defensive intensity last year's second unit lacked almost completely. He's been a little up-and-down since coming back from knee surgery, and even though he's not quite up to the same production on offense, he's still contributing by grabbing rebounds, mostly on the defensive end.
Advantage: Matt Barnes, no contest.
At the end of the day, the reserves must attempt to break games open instead of giving up leads and making Jackson have to resort to re-insert the starters. The most important part in achieving this is sticking to a game plan that works. Good ball movement, finding the open man and not giving up on defense.