If you're the Clippers, you probably don't trade Eric Gordon. But since we're already on the subject of unlikely scenarios and simply because Clipper fans, perhaps more than others—are dreamers—this seems fitting.
The three-team, never-gonna-happen mega deal.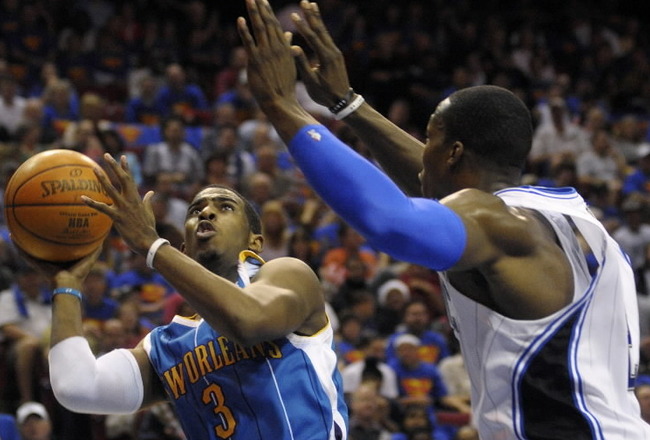 Dwight Howard and Chris Paul to the Clippers; Eric Gordon, Chris Kaman and Trevor Ariza to the Magic; Hedu Turkoglu, Eric Bledsoe, DeAndre Jordan and Minnesota's unprotected 2012 first round pick to the Hornets.
Look, Gordon is a young and promising player. Had he not gone down with that wrist injury last February, he likely would've continued his quest to become the next great shooting guard, you know behind Kobe Bryant and Dwyane Wade. He's still under a rookie contract, in other words, he's there on the cheap (for now) and quite frankly, the Clippers would be foolish to let that go.
But if you could get Dwight Howard and Chris Paul to join forces with Blake Griffin, you do it. This deal is a long-shot at best and mostly because a lot of chips have to fall perfectly into place. One thing going for the Clippers is that they're still in a prime market, despite ownership. Both teams, Orlando and New Orleans have to look at the big picture—they don't want what happened to Cleveland to happen to their respective franchises. They already have knowledge that their superstars want to walk, so there's an incentive to get something back in exchange for them.
The Magic are going to be in rebuilding mode upon Howard's departure. I suspect the Magic are going to use amnesty on Gilbert Arenas, knocking his $19.3 million off the books. They'll get Ariza, who's still a young guy and decent defender, Kaman, who some consider a productive veteran, and finally Gordon who has all the promise and potential of being that franchise player the Magic are losing in Howard. Already dropping Arenas, to get even more under the cap the Magic will probably want to unload Hedo Turkoglu, which leads me to my next point.
The league-owned Hornets would have to agree to take on Turkoglu's contract. As if this whole scenario wasn't filled with land-mines, this one will probably cause the biggest explosion. Turkoglu is not a young player, he's still tall and has range, but long gone are the days when his game made just as big a splash as his frosted highlights. But the Hornets will still get Bledsoe, Jordan (contingent on him signing an extension) and the highly coveted Minnesota unprotected first round pick of the 2012 draft.
If Chris Paul teaming up with Blake Griffin and getting the Clippers that much closer to bridging the gap between them and the Lakers in la-la-land seems like it's too good to be true, it's because it is. There's a reason why the Clippers aren't ever really in the mix to make the mega-deals. They never take the risk, and consequently, players never take a chance on them.
LeBron had the chance to play with Griffin and give his rivalry with Bryant a geographical edge, but he didn't take it. Whether or not Chris Paul decides to bank on the Clips is anyone's guess, but it won't be because it's the wrong choice. It'll be because it's never ever the most lucrative one.