2005-2006 season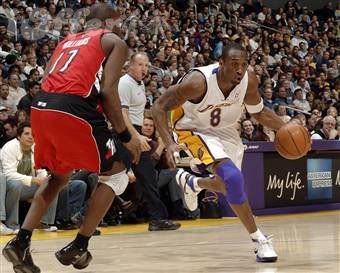 In the second post-Shaq season, Kobe and the Lakers continue their quest to return to prominence. At this point in their path Kobe plays along side the likes of Smush Parker, Luke Walton and newly acquired Kwame Brown in the starting line up. It is no wonder with a line up lacking legitimate NBA talent that Kobe takes it upon himself to attempt to carry the team to the playoffs which he miraculously does. From the outset of the season Kobe puts his foot on the pedal and never relents. Kobe's registers 27 games of 40 points or more and an astonishing 6 games of 50 or more. In this season, Kobe puts together one of the greatest offensive performances in NBA history by scoring 81 points against the Toronto Raptors on January 7th, 2006.
Kobe somehow willed a very weak supporting cast to the 6th best record in the West and a playoff berth.
Highlights of the 2005-2006 season:
81 point game against Toronto; 2nd highest point total for a single game in NBA history.
Scored 62 points in only 3 quarters against the Dallas Mavericks; did not play in the 4th.
4 straight games of scoring 45 or more points; joins only Wilt Chamberlain and Elgin Baylor as only player with such a a streak.
35.4 point per game average; the 8th highest in NBA history.
2005-2006 MVP Voting:
Player, Team                           (1st place votes) Total points
Steve Nash, Phoenix                    (57) 924
LeBron James, Cleveland             (16) 688
Dirk Nowitski, Dallas                   (14) 544
Kobe Bryant, L.A. Lakers            (22) 483
Statistics:
Steve Nash:       18.8 ppg, 10.5 apg, 51.2 FG%, 43.9 3pt%,  Phoenix record 54-28
LeBron James:   31.4 ppg, 7 rpg, 6.6 apg, 1.6 spg, Cleveland record 50-32
Dirk Nowitski:  26.6 ppg, 9 rpg, 2.8 apg, 48 FG%, Dallas record 60-32
Kobe Bryant:    35.4 ppg, 5.3 rpg, 4.5 apg, 1.8 spg, L.A. Lakers record 45-37
Kobe again got absolutely no respect or serious consideration from the panel of MVP voters who apparently were not impressed by the historic feats accomplished this season. The voters selected Nash as their MVP for the 2nd straight season based mainly on the fact that Suns were able to put together a 54 win season despite losing Amare Stoudemire to a season ending injury 3 games into the season.
What the voters did not pay much attention to was that Kobe carried a team to the playoffs with a  supporting cast that was not only significantly worse than the teams of the other MVP candidates, but quite possibly the worse collection of players ever to have qualifed for the playoffs. This year's  inexplicable 4th place finish combined with the history of poor response from the MVP voters affirmed just how Kobe has been tremendously undervalued and plainly overlooked.