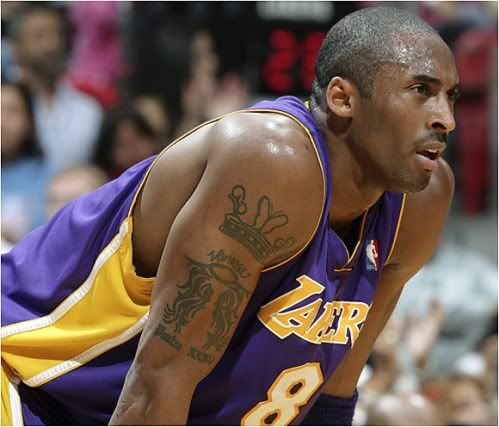 While there have been some great seasons that Kobe has put together where you could have definitely made a case for him winning the MVP award and definitely deserved a better voter response, I don't believe Kobe was slightly to the point of complete vomit inducing outrage. I am more of the belief that Kobe has just been a victim of circumstance.
In the first 8 years of his career he enjoyed team success but played along side another dominant player in Shaquille O' Neal who took some of his MVP votes and drowned out his impact on the team.
Kobe's greatest statistical years came when his teams were middle of the pack or not quite the upper echelon of the NBA. In the history of the NBA MVP award, team success is vital.
I also believe that if Kobe had been more likable and placated to the media early in his career the voters/media would have been more forgiving as far as thier MVP criteria is concerned. Kobe has put together some incredible seasons where he achieved feats never seen before, not seen in a long time or attained by a very select and elite few. In the two seasons that I pointed out earlier, he was given very little consideration which I think is a travesty.
There is no doubt in my mind that his trophy case would be filled with one to two more MVP awards today if Kobe had been more "one of the guys" like a Michael Jordon or Shaquille O' Neal.
Whether its Kobe having been undervalued, ignored or there just being complete disdain by the media, based on the consensus of the media in regards to the current leader for this year's NBA MVP, it appears that whatever it is, it still exists.
Kobe's production is on par if not better than the current MVP candidates.
The Lakers are on a pace to win as many games or more than the other MVP hopefuls.
Kobe is the unquestioned leader and #1 option on his team.
The supporting cast still only has one All Star and a collection of players that have been most successful only playing along side Kobe.
Yet the response for Kobe this year has been lukewarm.
It just seems that we have become so accustomed to the greatness that Kobe brings on a night to night basis after so many years that we have become desensitized.
It can also be that MVP voters that have long ignored Kobe during some of his unbelievable seasons would appear foolish now to award him during years that aren't near that level.
This is not a case for Kobe being the MVP but rather a case for having him garner the attention that someone with his accomplishments and legendary status deserves. I'm asking that he be afforded the same type of respect that was provided to another legend, Karl Malone, when he won his MVP award in 1999 over 2nd year forward Tim Duncan despite Duncan having better overall numbers and equal team success. The voters at that time decided to give the edge to the player who had been in the league for 14 years at that time and already established himself as one the game's best.
There are around 20 games remaining in the season and the Lakers are currently in striking distance for a top 3 record in the NBA. In that time the Lakers have 7 national games and some marquee match ups against San Antonio, Miami and two against Dallas. The stage is set for Kobe to do what he has been doing all year and for his entire career and that's being dependable, a leader and willing his team and himself to victories no matter the obstacles.  I really hope that those in the media who are provided with the great responsibility and honor of handing down the most prestigious individual award are paying attention this time around. A legend of the game who is nearing the twilight of his career deserves at least that.