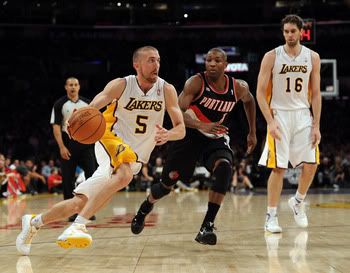 Defensively:
Farmar: Ideally, you would like your point guard to fight through screens, have great lateral movement and play with energy. Physically you want a point guard that has some length and good upper body strength to body up and ward off drives to the basket. Farmar had none of these abilities or physical attributes and it showed with every guard that passed him on the way to the basket. If he wasn't scoring, he just became a defensive liability on the court.
Steve Blake: While Blake will never be confused with Michael Cooper defensively, he is a smart team defender, is active and works hard on the defensive end. Blake doesn't have a lot in his back pocket but makes up for that with his long 6'3 frame and energy.
Blake upgrade? Yes!
Note the exclamation point to show my emphasis on the yes. The fact that the Lakers got better defensively in back up point guard spot has more to do with Farmar's deficiency defensively than Steve Blake's ability.
Pure point guard skills:
Farmar: Farmar possessed very good ball handling skills and a quick first step that allowed him to break down defenses and get to the basket. What Farmar did not show with the Lakers was that ability or willingness to place the ball in the right spot for another player to score after he got by his man.
Farmar routinely looked for his own shot first and thought pass second. In Farmar's last season with the Lakers he registered more than 5 assist in just one game out of 82 played and averaged a paltry 1.5 assist per game which would average out to just 4 assist per game per 48 minutes. For a point guard, Farmar was careless too often with the ball and many times it was what got him pulled out of games. Last season, Farmar's assist to turnover ratio was 1.76 assist per turnover which would have ranked him 64th in the league.
Blake: Blake was never the type of point guard that dominated the ball and carried the responsibility of creating shots for the offense like a Steve Nash or Chris Paul. The word to describe Steve Blake as a point guard for his career is solid. He is not flashy, rarely takes big risk with the ball, but gets the job done.
This season, Blake has been incredibly tentative offensively. He has been reluctant to attempt to penetrate defenses and has routinely deferred to others in the offense. Steve Blake's assist numbers are the lowest they have been since his second season in the league.
He has also has not been his usual self in terms of protecting the basketball. Last year he was 12th in the league in assist to turnover ratio at 2.87, just behind Steve Nash, and those numbers were inline with his career assist to turnover average of 3 to 1. This year he is at 1.86, which is just slightly better than Farmar in the previous season.
Blake upgrade? Slight.
What the Lakers have in Blake is someone that they can be confident will make the smart and safe basketball play on the court, as opposed to the reckless one that Farmar would occasional exhibit. Overall though, there has been no significant upgrade in the playmaking department in the back up point guard role up to this point.