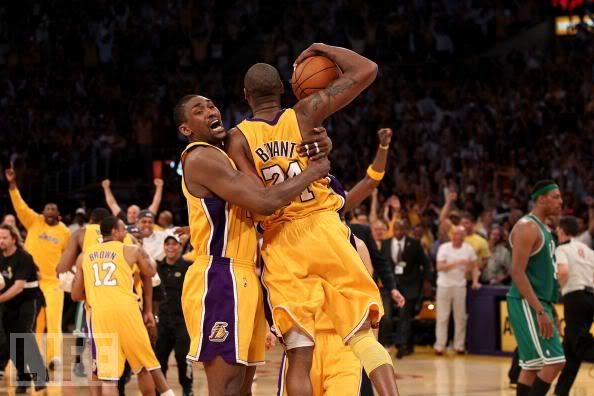 Even at this point in the season and looking at how Steve Blake has performed, it is fair to say that the Lakers improved the back up point guard spot this season. While Jordon Farmar was definitely more exciting with his occasional offensive explosions and 43 inch vertical leap which produced some nice highlight plays, his play was just too volatile for a Phil Jackson run team that preached execution in a precise offensive system.
Steve Blake isn't lighting the world on fire with his play and his level of recognition with the Laker fan base is probably where he could walk the streets of Los Angeles in jeans and a T going completely unnoticed. Blake has been an upgrade defensively and has shown the basketball smarts and poise which are departments that Farmar struggled with throughout his career.
Than being said, outside of using Jordan Farmar as the measuring stick, Steve Blake has so much more that he can provide for this team and for that reason we have to say his acquisition has been a disappointment thus far.
He appears to be holding back, but why?
When you shoot a career 39% from the 3 point line that should give you the green light to shoot, especially when you're open. Blake usually opts not to.
Where is the Steve Blake that lit up the Lakers for a triple double in the last game of the season? That wasn't a game like when Ice Cube messed around and got a triple double; this was an NBA game where the very best few in the world compete and Blake dropped a line of 23 points, 11 assist and 10 rebounds on the then soon to be 2x NBA champs.
A new player being added to this Laker team that experienced a drop off in performance during the regular season has been seen before. The Blake signing has similarities to that of the Ron Artest signing a year ago.
Ron replaced a fan favorite in Ariza who played both his High School (Westchester) and college ball (UCLA) in Los Angeles. Blake replaced Farmar who played also played high school (Taft) and college (UCLA) in Los Angeles.
The Lakers replaced both Ariza and Farmar after coming off championship seasons. In both cases there were questions as to the Lakers' decision to change the formula that had been successful.
Ron Artest, like Steve Blake, got off to a good start with the team then his production tailed off during the season. There were questions with both about rather they fit on this team.
In Ron's case, it ended with his biggest contributions occurring at the most important time of the season, the playoffs. He handcuffed Kevin Durant in the 1st round and added a game winning put back basket in game 5 of the Western Conference Finals against the Suns. He is most remembered for his 20 point game performance in game 7 of the NBA finals against Boston that carried the Lakers to a win.
The playoffs are around the corner and we now wait to see if Steve Blake can have a similar turn around and impact in the playoffs as Ron Artest did last year.
His timid play on the court thus far is tolerable in the regular season while he tries to acclimate himself to his new teammates and the triangle. In the playoffs though, there will come a time where he will be needed to break out of his shell and make a play or take a big shot that can make or break a game or series. The Lakers chances of obtaining that 3rd straight championship might rest on Steve Blake's ability to come through in that situation if and when it presents itself.