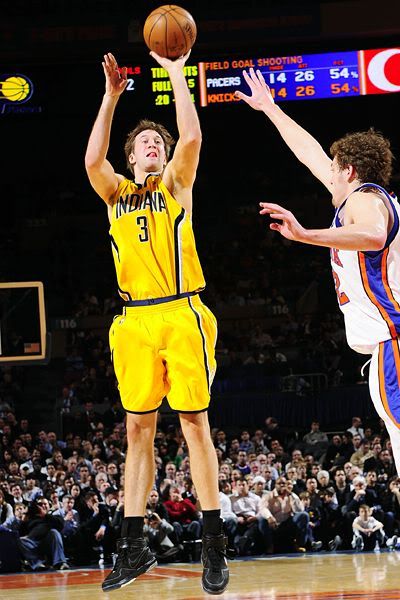 Troy Murphy / PF to Boston:
What he brings: A big man that can stroke it from the outside and a tenacious rebounder.
How he can directly affect the Lakers chances: A Celtics v. Lakers rematch in the Finals seems to be the most predicated by NBA analysts and if it does come to fruition, the Lakers will have quite a quandary on their hands with the way Troy Murphy plays.
Murphy combines the blue collar work on the boards that you would expect from a 6'11 power forward but also has the unique combination to stroke it from the outside. Murphy is a career 39 percent shooter from three point land and it was just two seasons ago that he made a career high 161 three pointers, while shooting them at an impressive 45% clip.
He has played sparingly this season so his paltry numbers of 3.6 points per game and 4.2 rebounds per game are not indicative of his capabilities or how he'll perform for the Celtics. Murphy battled groin and back injuries early this season and by the time he returned he couldn't supplant Kris Humphries or Derrick Favors, who were established in coach Avery Johnson's rotation.
Murphy will provide much needed help on the boards for the Celtics who are currently next to last in the league in that category. If the Lakers do meet the Celtics in the Finals, rebounding might be the key again as in last year's finals match up, the team that won the rebounding battle won the game and ultimately the series.