Gasol is perhaps the league's most-skilled big man. He's able to beat most defenders with a vast array of offensive options. It's easy to take Gasol's versatility for granted. He's been such a pillar of consistency for the Lakers that we tend to forget just how effective he can be in not only creating his own shots, but taking an inside-out approach and creating opportunities for his teammates with his passing ability. More importantly, it's easy to forget just how much his productivity and efficiency coincides with a winning percentage for the Lakers. Although Gasol would probably be putting up similar numbers without Bynum, he has to exert more work and energy in doing so.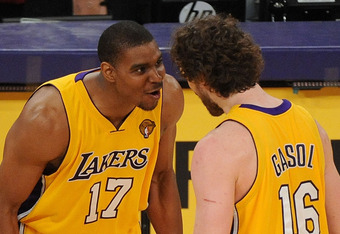 In other words, having a healthy Bynum just made the game that much easier for the Spaniard.
Take the game against San Antonio for example. Remove Bynum from the equation and you're left with Gasol and Lamar Odom in the front court. A formidable duo, but in terms of defense, few things trump a 290-pound, seven-footer guarding the paint. Having Bynum at full strength against the Spurs allowed the Lakers to slide Gasol in the power forward spot, leaving Bynum to have to account for Tim Duncan on defense and Gasol working an undersized DeJuan Blair on the offensive end. Gasol ended the night with 22 points and Bynum had 17 boards. It should be noted that Duncan was a virtual non-factor and Blair and Manu Ginobili ended the night with six points each.
Over the last couple of years Gasol has improved as both a rebounder and defender and even though game 7 of the 2010 finals should have eliminated any remnants of the "soft" label he was given two years prior, Gasol does at times struggle when matched with strength. The presence of both Bynum and Gasol create the perfect combination of brain and brawn. Gasol can command the double team and Bynum can power-up to create easy offense. On the defensive side of things, Bynum can take hits and make it that much harder on defenders to out-muscle Gasol while crashing the boards.