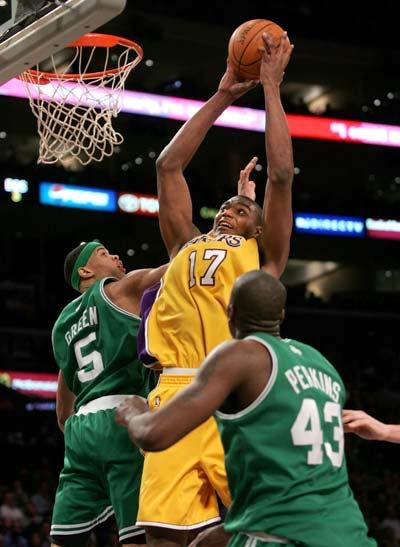 I have experienced a very eerie feeling where just after a moment in my life occurs it feels as I have already lived through that moment before exactly as it had just occurred. I have experienced this feeling on a handful of occasions and usually just chalked it up to some wires getting crossed in my brain. This phenomenon is referred to as deja vu which is a French term for "already seen."
After the completion of this past weekend's NBA games, I believe this phenomenon reoccurred. Rampant through Twitter, sport talk radio and spewing out of NBA pundits' mouth on TV were proclamations of a doomsday type forecast for both the Celtics and Lakers going in to the playoffs due to their late season swoon.
The Lakers and Celtics are definitely stumbling into the playoffs. Prior to Tuesday's games, the Lakers find themselves on a 5 game losing streak and the Celtics have lost seven of their last 12 games. A poor stretch will give any fan base a legitimate cause for concern; have that bad stretch to close out a regular season with a team that has real championship aspirations and that concerns turns into outright pandemonium.
The doubt surrounding the Lakers and Celtics regarding their chances of reaching the NBA Finals again this season because of their current struggles, while reasonable in most cases, is not a logical reaction in their case. The reason being, we have experienced this same moment before with these same teams just a season ago.
To close out the 2009-2010 season the Lakers lost seven of their last 11 games and the Celtics lost seven of their last 10.
The talk around the NBA world at that time was very similar to what is being said now about the Celtics and Lakers. Words like old, done, past their prime and being shot were printed in articles or stated on telecasts when speaking of both teams' chances to win it all; albeit more so when speaking of the Celtics than the Lakers.
Undeterred by the doubt that surrounded them, both teams knifed through the 2010 playoff competition like it was some of Lucille's warm apple butter.
The hard fought seven game Finals series that was still up for grabs in the winding moments of that last game left no doubt that these were the best 2 teams in the NBA that season. Many of the people covering the NBA and fans of each team had to chow down on a big chunk of crow once the Finals were completed.