Recent Gloom and doom articles by the experts: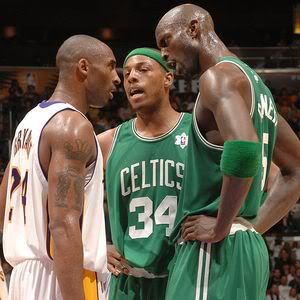 ESPN True Hoop Blog wrote a piece titled "Lakers title hopes may already be dashed".
Sam Amick of SI.com writes "Struggling Lakers show there's a lack of toughness in Tinseltown".
Janis Carr of the OC Register writes "10 things Lakers need to fix before playoffs". Wow, 10 things?
"Slumping Lakers could be in big trouble" writes the Toronto Sun.
Writers aren't being any more optimistic for Boston.
Yahoo! Sports writes that "The time to worry is now for Celtic Fans".
Boston Herald feels that the "Celtics have gone soft".
Christopher Gasper of the Boston Globe believes wrote: "Celtics plant seed of doubt".
So having seen what occurred just one year ago, why is it that so many of the ones we count on the most to provide insight and analyses of the game appear to be fooled again?
The answer I believe is human nature. It usually takes us (humans) to be convinced of something after it's done more than once.
When your uncle pulled that quarter out of your ear, your first instinctual response was to ask that he do it again.
It usually takes a couple to break up twice before they know that relationship isn't going to work.
Great boxing match ups always need a rematch to convince people that one fighter is better than the other. If the same boxer wins the rematch, we very rarely see a third because two times is all it took to convince us.
It apparently it is no different in this case. However, I won't need convincing that these are still the two best teams in their respective conferences.