Everyone knows the Los Angeles Lakers are planning to target LeBron James, Paul George and any essentially other marquee player set to reach free agency next summer. Historically, 90 percent — give or take — of headlines involving the Lakers' various free agency rumors has made that abundantly clear.
But as exciting as such a banana boat super team may be, this Lakers season is about more than cap space. Frequent readers and anyone who follows the team are more than aware of how bad the Lakers have been the past several seasons, and while this may not be the group that changes that, they will at least be the most fun team the Lakers have fielded in quite some time.
Yes, every season preview for the last several years has cited that last point for deja vu inducing groundhog day effect, but this year there is actually reason to believe this will be the team to break that trend of promising fun and only delivering drama, misery and most importantly, bad basketball.
The Lakers breaking that cycle in 2017 starts with the player at the center of the other 10 percent of the non-free agency related headlines for the team, Lonzo Ball. His father's mouth has made sure he's never far from headlines, but it's also somewhat distracted from how much excitement and thrills Ball's game actually brings.
It sounds like hyperbole but really isn't to say that Ball is already the Lakers best passer since Magic Johnson. The man running the Lakers' basketball operations department was known for the joy, flare and smile he played with, and while Ball doesn't quite show the same level of emotion, his game can create just as much smiling.
The way Ball moves the, erm, ball is a joy to watch. Pure, unselfish, quick-hitting basketball at it's finest. When he gets a rebound, it's off to the races, and teammates are going to have to keep their heads up and on a swivel at all times whenever he has the ball, be it in transition or in the halfcourt. His assists can and will come from literally anywhere on the court.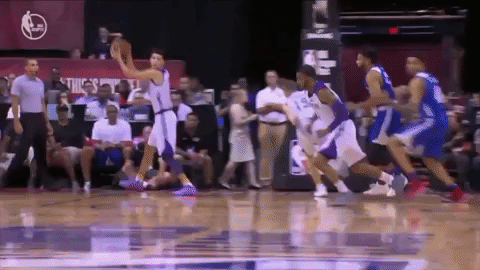 Sometimes even when it looks like he's totally trapped himself into a bad decision, like in the clip below. How something positive came from that drive is anyone's guess.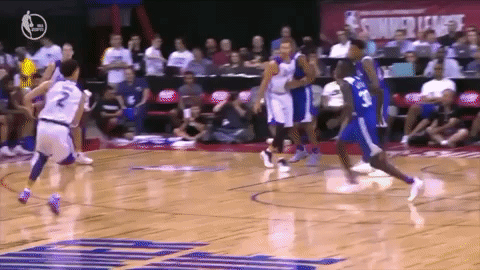 Even when Ball just randomly tips the ball he finds teammates.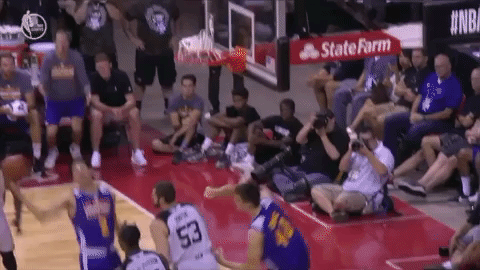 Even further eclipsed by free agency and the new car smell of Ball is Brandon Ingram. Despite looking like a lanky, awkward teen thrust into an NBA game for the majority of the 2016-17 NBA season (mainly due to him literally being a lanky, awkward teen thrust into an NBA game), Ingram's development down the stretch and strong showing in Las Vegas Summer League offer plenty of reason to be confident this could be a breakout season for the young wing.
Ingram's footwork, shooting and overall control over his movements were all massively improved in Las Vegas Summer League, as Forum Blue and Gold's Pete Zayas outlined.
Ingram explained why to Mike Trudell of Lakers.com:
"Coach (Brian) Keefe and I did a good job of just trying to come here every day and work. We started out with form shooting. Trying to keep myself from shooting over my head. Trying to find different ways that I feel comfortable shooting the basketball the right way."
As Ingram shooting over defenders like they're Yi Jianlian's pre-draft workout chair continues to become more natural, it's also only going to get more fun to watch him a process that starts this year and will likely continue for years to come.
It's less certain how long Julius Randle will be with the Lakers, but headed into a contract year following a summer in which he went from flab to fab thanks to some insanely gritty workouts with his trainer Amoila Caesar, Randle looks primed for a breakout campaign.
Randle has never been in "bad" shape (he is an NBA player, after all). That being said, he certainly looks more trim and has already noted improved stamina and agility on the court.
Once Randle is given the freedom to bring the ball down the court, fans can look forward to a lot more of the coast-to-coast transition plays in which he looks like some freakish lovechild of Lamar Odom and the Incredible Hulk.
Getting for himself is great, but Randle also showed an increased propensity for finding others on the break, a habit that should only increase given the contagion of ball movement Ball has infected every roster he's ever played with.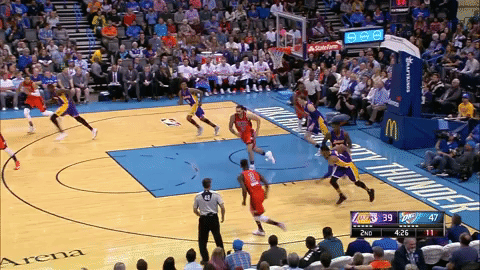 Passing has never been a problem for the Lakers' other young power forward. In fact, Larry Nance Jr. probably passes too much, but when he doesn't, it's often because someone is about to get baptized.
That this piece has gone this long without mentioning Nance's dunks is one of the best testaments one could give for how much fun this young Lakers team is going to be. And when you factor in Nance doing stuff like this more regularly off of endless feeds and looks from Ball, it's easy to get amped for this season.
NSFW CC:@larrydn22 #LakeShow (????: @SpectrumSN & @spectdeportes) pic.twitter.com/inQ11v6MAH

— Los Angeles Lakers (@Lakers) December 15, 2016
The guy Nance did that to is another reason for Lakers fans to be psyched, and no, not because Nance is probably going to use Brook Lopez for posterization practice all season during scrimmages.
Lopez is instantly the Lakers most talented seven-footer since Dwight Howard posed for that infamous SI cover. While that season didn't have a lot of good memories for Lakers fans, the men that have manned the paint for the purple and gold since have been far worse, albeit while being infinitely more likable.
Lopez is the best of both worlds. He's one of the most offensively-gifted big man in the NBA, and also a huge nerd who loves comic books and cracking jokes. The latter quality will make postgame and practice interview quotes more fun, while the former will do the same for the Lakers' play on the court.
Ball may not be hitting Lopez on transition leak outs anytime soon, but in the halfcourt the big man will offer the Lakers a dependable post-up presence for when things get bogged down, as well as offering 3-point range to space the floor for a Lakers' offense that has greatly lacked in that area.
Lopez's sheer competence will be a massive upgrade from the awkward flailing of Roy Hibbert and overtasked and overpaid Timofey Mozgov until his contract expires at the end of the year.
That expiration brings us back to 2018 free agency. While it's fine to look ahead, which tampering charges revealed the Lakers themselves have done, the 2017 team is worth paying attention to on it's own, non-cap space related merits.
And that's while only just now mentioning how much of an improvement Lopez's fellow one-year stopgap Kentavious Caldwell-Pope is going to be at shooting guard.
The Lakers aren't going to be on the fringes of the playoffs in a competitive Western Conference. They probably won't have an All-Star when the league's showcase is played at Staples Center this season.
But they're still going to be a massive upgrade in watchability over the last several purple and gold squads, and worth focusing on and enjoying before whatever overhaul they undergo next summer.
Or to channel my inner Sports Illustrated headline writer, this year it will be different. THIS is going to be FUN.