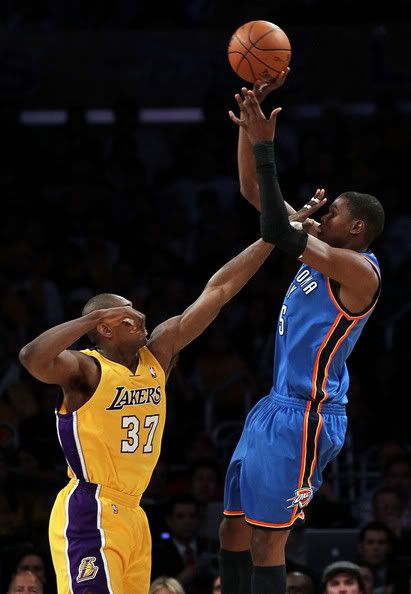 Exhibit A:
The only word to describe what Durant has done in terms of scoring output over the last 2 years is dominating. If we combine these last two seasons, Durant is averaging a healthy 29.6 points per game against the league and shooting at a very sound 47 percent clip. He has hit 192 three pointers over that same span and shooting those at a respectable 35 percent efficiency. Looking at those numbers against the league it is no wonder that Durant has quickly become a fan favorite and propelled himself as a preseason front runner for the NBA MVP award by the media.
In contrast, something very strange happens when he lines up against Ron Ron and the Lakers. In 10 games (including playoffs) versus Artest as a Laker, Durant is averaging 25.8 points per game, which isn't too far a drop from his average. You really need to look at his efficiency in getting those 25 which will reveal the real story of how Artest has gotten into Durant. He is shooting an anemic 38.7 percent from the field and an even worse 22 percent from behind the arc; a significant drop off from his regular season averages. The only thing keeping Durant's production near his normal output is his ability to get to the line and hit his freebies; this makes sense since this is the only time they get to peel Artest off Durant.
Exhibit B:
Sometimes looking at numbers that include the regular season it can water down the results because as we all know, the stars come up big in the playoffs. Surely, this is where Durant would show that Artest can't stay with the Durantula. Well it doesn't look good here either. In last years 6 game opening round playoff series, Durant was stifled by Artest and never really broke out. He ended up putting together decent numbers in game 2 with 32 points on so-so 12 for 26 shooting. This effort didn't result in a win and he would never reach the 30 point mark, which was his average in the regular season, the rest of the series. His listless numbers for the series were 25 points per game while shooting 35 percent from the field and 29 percent from 3.