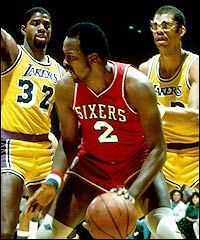 Going by Kobe's current scoring average of 25.3, Kobe should surpass #8 on the scoring list, Hakeem the Dream, January 25th when the Lakers host the Utah Jazz. Ironically, It was Hakeem that spent time with Kobe, helping him with his post up game prior to the start of the 2009-2010 season; so he would have actually contributed to Kobe passing him up on the all time scoring list.
Continuing with Kobe's projected climb, he should supplant one of the members of the 50 greatest NBA players, Elvin Hayes, for the #7th spot on February 27th at Oklahoma City against the Thunder. It would be meaningful to reach this milestone in front of another player that will likely make his own run at the scoring record, Kevin Durant.
Moses Malone is next on the list at # 6 and Kobe is projected to pass him when the Lakers play one of Moses many former teams, the Atlanta Hawks on March 8th at Phillips Arena. Moses Malone was a three time NBA MVP, a member of the NBA 50 greatest players. He is probably best known for his time with the Philadelphia 76ers where he won his only NBA championship along side Dr. J and Maurice Cheeks.
The 2010-2011 season will be a historic season of note for Kobe as he will have surpassed 6 players on the all time scoring list landing him at #6 all time. He now looks up to only 5 players but catching them will be an arduous task.
Next: The Diesel and the Top 5