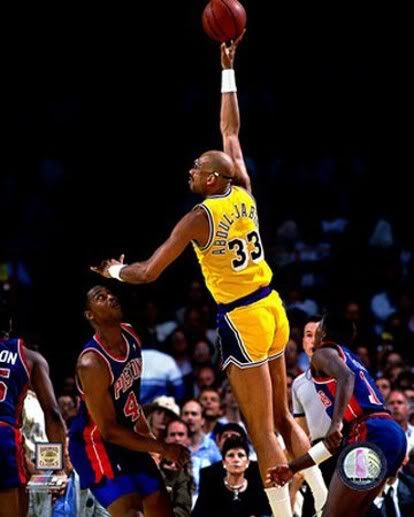 Assuming that Kobe plays all 82 games going forward and the NBA season is not shortened in 2011-2012 due to a lock out, Kobe will pass Wilt Chamberlain's 31,410 point total in the 2012-2013 season when Kobe would be 34 years old.
At 35 years old, Kobe will pass up MJ's 32,292 point total in the 2013-2014 season. If Kobe is still gathering accolades and achievements to match or exceed MJ's career in order to be considered as the best of all time, this could be the clinching mark.
Kobe will have to play another 2 season in order to top Karl Malone for #2 on the list at 36,928. Kobe will be 37 in this 2015-16 NBA season.
In what would be the crowning moment in Kobe's career, at age 38, he would break Kareem's all time NBA scoring record of 38,387 in the 2016-17 season. To really understand how incredible and yet far fetched this idea is, this is 6 full NBA seasons away from where we are today. It is attainable only if Kobe remains injury free and only experiences a 3 percent decline in production per year.
Breaking Kareems NBA scoring record is an improbable feat that ranks right up there with the other likely insurmountable records as Joe Dimaggios 56 game hitting streak and Cy Youngs 511 career wins.
For someone to even consider approaching this record, it will require incredible commitment to remaining in top physical shape.
Their game will have to be altered and tweaked each year in order to remain productive despite the natural decline in athletic ability.
This person will have to have a love for the game so big that they are still passionate after 15 to 20 years experiencing the same long NBA season grind.
All of the aforementioned seem to describe Kobe to a tee.
While actually attaining this record is completely unimaginable, Kobe has made a career of doing what many could not imagine. For him, it is definitely possible.