Welcome back for Part II of my exploration Kobe Bryant's future with the Los Angeles Lakers. Yesterday, we took a look at the case for Bryant retiring at the conclusion of the 2015-2016 season, which does appear to be the most probable outcome.
However, there is another path, one that may be a bit unconventional, but has the potential to drastically alter the future for both Bryant and the Lakers. While it won't be an easy road to travel, taking this route could extend his playing career while simultaneously giving the Lakers rebuild a shot in the arm.
A New Set Of Challenges
At one point, Bryant was king of the tough shot-makers, but with his athleticism waning the how-the-hell-did-he-make-that daggers are turning into wasteful offensive possessions. Efficiency is paramount in the modern NBA, which makes Kobe's clanking is a big problem, one that has to be rectified if the Lakers are going to get back on track.
However, it's not all Kobe's fault. He was playing on a bad team that was struggling on both ends of the court, while the massive Lakers fan base grew more restless with every loss. The talent-deficient Lakers had little choice, but to once again look to their aging star to carry the load. After so many years of being able to will the team to victory, it's not surprising that Bryant would default to the familiar and attempt to play the hero once more.
Bryant was frequently thrown the ball late in the shot clock after his teammates had failed to generate a good look, requiring him to make something out of nothing. This led to a number of percentage-busting shots that were make-able for the Kobe of old, but not so for old Kobe. Thanks to the combination of an athletic decline and poor team offensive execution, Bryant shot just 37 percent from the field during the 2014-2015 season, by far the low mark for his career.
Tough to blame Kobe when he's hit shots like these:
Coach Byron Scott also has to take some of the blame, asking Kobe to carry a burden he is no longer physically able to bear. The 36-year-old Bryant averaged a whopping 34.5 minutes per game while Scott tried to squeeze out as many victories as possible, health be damned. As the season wore on, the impact of playing so many minutes became apparent as Bryant's shooting percentage sank lower and lower. Compared to the San Antonio Spurs, who manage their star's minutes religiously, Scott's rotation was downright backwards. While it's not easy for anyone to tell Bryant to take a seat, part of Scott's appeal at the helm was that he has Kobe's respect and would be able to make those calls, saving Kobe from his own competitive nature.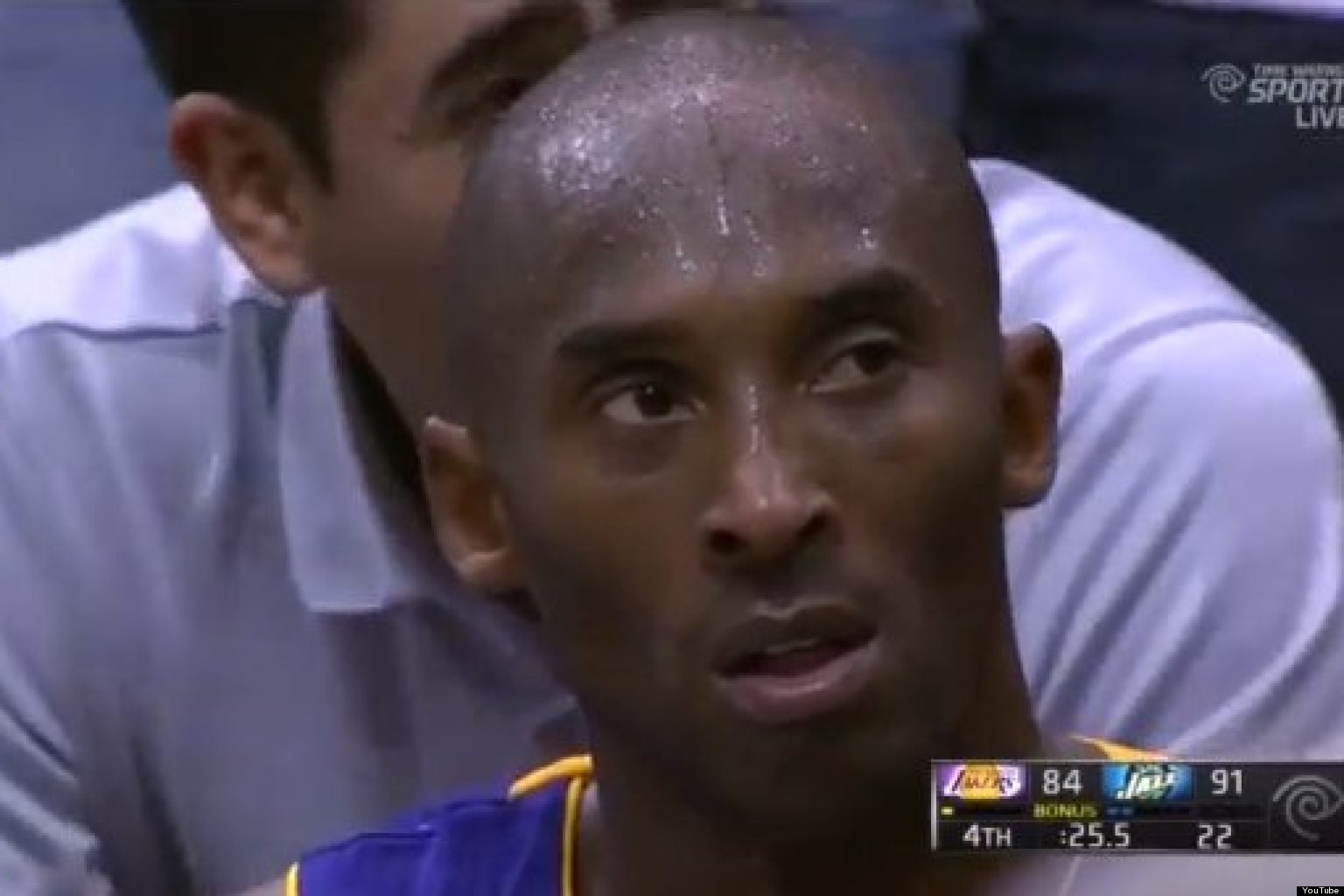 Whether Byron is immune to Kobe's death stare has yet to be seen.
Regardless of where the blame for last season's struggles lies, the bottom line is that Kobe cannot be the same player he once was, both in terms of impact and minutes. While Bryant can probably play one more season in Mamba mode (for better or worse), if he wants to stick around past that he is going to have to adapt to his limitations. It won't be easy, but it's time for a metamorphosis.
Fortunately, the blueprint for Kobe Bryant, Version 2.0 has already been created.
The Road Not Taken
Over the course of his career, Kobe Bryant has taken a lot of flak for his passing (or lack thereof). He's been labelled a ball-hog, a glory-hound and a bad teammate. Memes litter the internet poking fun at his disdain for dishing (Google "Kobe Bryant meme" at your peril). However, these presumptions are overlooking the fact that Bryant is actually a phenomenal distributor.
Despite watching countless hours of Lakers Basketball as a child, it was Michael Jordan that captivated the basketball world during much of Kobe's formative basketball years, and as such Bryant patterned his game after "His Airness". Somewhere though, there is an alternate universe where Kobe mimicked the playing style of Magic Johnson instead, and that Bryant is likely just as successful as our own. Kobe has the ability to be a top-level distributor, he just didn't build his game around that skill.
Last season, we saw a number of games where Kobe focused on getting teammates going before looking for his own shot, playing on the wing as a multi-faceted point-forward. With the offense flowing through a pass-first Mamba not only did the assists pile up, but teammates found plenty of open looks. In perhaps his best game last season, Kobe racked up an impressive 17 assists against LeBron James and the Cavs, while still chipping in 19 points on 7-14 shooting.
It wasn't the first time that Bryant had played a pass-first game (he had double-digit assists three times before that outing) but it felt as though a breakthrough was being made, that he was truly mastering the use of the pass in order to create more efficient shots for both himself and others. When the defense collapsed on him, he found open teammates, and when opportunities were open he took in-rhythm, efficient shots. It was brilliant basketball, maximizing Bryant's intelligence and skill while masking his weaknesses.
Unfortunately, Bryant would play just one more game, tearing his rotator cuff against the New Orleans Pelicans. The season ended in a cliffhanger, with no answers as to whether maestro Kobe was here to stay or not.
I'm more than comfortable just sitting back and scoring 21, 22 points or whatever and getting 10, 11 assists whatever the case might be. More than comfortable with that. It's just a matter of the pieces that you have around you and what you can do to elevate everybody else.
If nothing else, the games that featured Kobe Bryant: Passing Prodigy may have given us a glimpse into the future; a blueprint to follow should he decide that this coming season will not be his last. With a minutes restriction, rest days, and a shift to a less-taxing, pass-first philosophy Kobe could very well play two or three more seasons, which would give him an outside shot at catching Karl Malone for second on the all-time scoring list. Furthermore, it would give the Lakers franchise and fan base more time to appreciate their transcendent star.
Bryant wouldn't be the first to make such a radical change, either.
NBA history is populated with superstars who adjusted their games in order to stay effective as they aged. Jason Kidd and Vince Carter became three-point specialists who spaced the floor for their younger counterparts, just as Kareem Abdul-Jabbar allowed himself to become the secondary option to Magic Johnson's run-and-gun Showtime attack. Accepting their limitations in order to benefit the team has, in varying degrees, required players to sacrifice their superstar status, but it also allowed them to continue playing basketball at the highest level in the world.
Should Kobe decide to do the same, he would be able to provide critical guidance to the growing collection of young talent that the Lakers are cultivating. Bryant has repeatedly said that he has no interest in coaching, but he could do a lot of good leading by example and showing the next generation of Lakers how to win.
These young guys are playing checkers. I'm out there playing chess.
Additionally, a pass-first Kobe would fit nicely with the organization's push to catch up to the spacing and shooting revolution that has taken the NBA by storm, as evidenced by their selections of D'Angelo Russell and Anthony Brown in the 2015 NBA Draft.
For Kobe, molding the future of the franchise would be a fresh challenge, and would allow him to leave the team that he has given so much to in better shape than it is currently in. They wouldn't be contending for the sixth championship that Bryant craves, but there is a certain joy in building and an appreciation of the journey rather than the destination.
Moreover, keeping Bryant in the fold on a more conservative contract next summer could be a decent draw for future free agents. While some insist that Bryant drives talent away, his massive contract and its impact on team building likely has a lot to do with that. Kobe the competitor still has a lot of fans amongst NBA players.
All that being said, with Kobe being who he is, it's tough to see him changing his game so drastically at this stage of his career, even if it would extend his time in the sun. Retirement is still the most likely path for him to take, although fans and franchise alike certainly wouldn't be disappointed to see more of their star.
All we know for sure is that Kobe Bryant's hefty Lakers contract expires at the end of the season, and no definitive decision has been made regarding retirement. Still, it seems likely that this season will indeed end up being Bryant's last. If he decides that he has had enough, that nearly two decades worth of NBA basketball have come to an end, then so be it. The changes I laid out here may be asking too much, and the burden of staying physically able to compete may be too great for it to be worth it. Still, the path to Bryant playing a few more years in the Golden Armor is clear, even if it isn't particularly pleasant.
The only certainty is that Lakers fans will have at least one more season to watch one of the greatest of all-time compete, and one final opportunity to give him the ovation that he deserves.
[divide]
Please enable Javascript to watch this video