The Lakers are a team in need. They could use a decent ball handler. Improved shooting around the perimeter would be nice. Oh hey, while they're at it, they could add someone who creates shots for others, as well as himself. Maybe if they got all those things they'd win more games, not give up so many leads, and not always need to rely on Kobe Bryant to bail them out.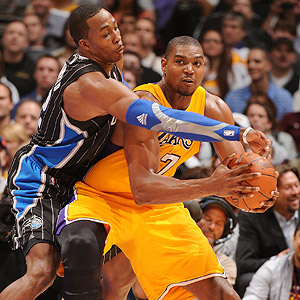 Defensively, the Lakers hold the number one spot in the league in points allowed for opponent. That and the fact that Bryant is averaging nearly 30 points per game are about the only thing keeping the team over the 500 mark. Despite their impressive defense overall, stick a quick point guard who can weave his way in-and-out of the paint, whether it's Derrick Rose or Jeremy Lin, they'll hurt the Lakers every time. Additionally, a rejuvenated Bryant just isn't enough. When Gasol is Gasol his productivity shows up in the box score. When Bynum isn't bothered by a double team, he'll score around 20 points a night. That doesn't always happen, and when the big three struggle, it only magnifies the inconsistency of their bench.
Yes, the offense is still a problem. The Lakers aren't making shots because they're not taking good shots. I'm guessing the team being 21st in points per game and 16th in assists per game is a pretty strong indicator of their poorly executed offense.
But the front office knew all of this coming into the season. Bringing in Mike Brown and an entirely new coaching staff, a different approach to playing basketball on both ends of the floor would need to prompt a concurrent change in the Lakers' roster.
Give Mitch Kupchak credit for his valiant effort to get Chris Paul. Orchestrating a three-team trade hardly sounds easy. It's not exactly like selecting players and running them through ESPN's trade machine. Clearly they had the right idea. Paul would've made everyone better, or at least in theory, would've given exactly what the Lakers needed to move forward with a brand new coaching staff.
If Paul is no longer an option, then what's Plan B? Dwight Howard?
Assume the Lakers trade Howard for Bynum straight up. Having another superstar, like Howard, to play alongside Bryant would certainly make the Lakers an interesting team to watch, but it doesn't address what the Lakers need right now. They'd get a more durable center, probably a more consistent scorer, and a better defender. Howard doesn't create his own shots unless they're put backs. Who on the Lakers is going to feed him the ball like Jameer Nelson does on the Magic? When Howard gets double-teamed, he'll throw the ball to one of the Magic's sharp shooters on the perimeter. The Lakers, as I'm sure you're all painfully aware, don't have a guy who can consistently score on a catch-and-shoot. If Nelson comes packaged with Howard, that's one thing, but if he doesn't, the Lakers are back to square one.
With Howard, at least the Lakers have upside for the future, a superstar to carry the team after Bryant retires, and an asset they could use to dangle in front of Deron Williams as an incentive for next season.
Next Page: Is Gilbert Arenas a viable option?