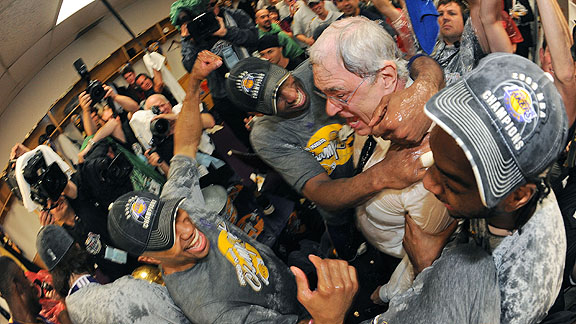 Am I reading too much into this? Perhaps, but Jackson didn't get 11 championship rings as a head coach by just drawing up X's and O's. It's the mental aspects, intricacies and using the media to his advantage that sets Jackson apart from the rest of the coaches in the league. Well you know that and the special chair he lugs around from stadium to stadium.
If that's not good enough, the last (and only other) three Jackson-coached teams that went on to three-peat did not have home-court advantage throughout the playoffs. Championship teams win on the road, period.
The Lakers are obviously talented and can win without the benefit of a game seven at home. Yes, they've had their share of mental lapses, struggles at the defensive end and at times on offense, but the championship still goes through them whether it's at home or on the road.
The upside is the Lakers still have time to get in the habit of playing a stretch of games at a high-level.
It's going to happen…any day now.  
 The book, "Scorecasting: The Hidden Influences behind How Sports Are Played and Games Are Won," by Tobias J Moskowitz and L. Jon Wertheim, is yet to be released. An excerpt can be found in the latest issue of Sports Illustrated.