Two minutes and 30 seconds is practically an eternity in basketball. If the game is close, it's just enough time to string together the points necessary to win. In crunch time, execution is key, turnovers are detrimental, and while maintaining a defensive edge helps, it means absolutely nothing if the basketball isn't falling through the hoop.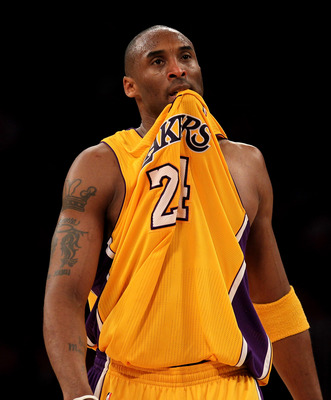 Sunday night, with 2:30 left to play in the fourth quarter, the Lakers found themselves tied at 90 with Denver. With all the offensive weapons the Lakers have, Kobe Bryant, Pau Gasol, and Andrew Bynum, the Lakers couldn't muster a single point. They took jump shot after jump shot, and watched the Nuggets' cohesion on offense produce layup after layup.
Just a week ago, the Lakers lost the first game of the season down the stretch, poor decision-making being the main culprit. They'd lose another before surging back against an abysmal Jazz team, and after winning two-straight, they find themselves right back where they were on opening night—unable to close out games.
Sure the Lakers can pen a laundry list of excuses to justify their lack of mental focus during a game they probably should have won, but like their offense in the final minutes, it would be a bit counterproductive. Put the blame solely on Bryant, if you want, but in reality it's not entirely his fault. Don't get me wrong, his shooting spree throughout most of the game didn't help the Lakers maintain a balanced offense, but if the last six games are any indication, the last few minutes have been reserved for Bryant to generate offense, and unfortunately, everyone else falls stagnant.
That's the role that Kobe has assumed. Until Mike Brown comes up with a better offensive scheme, he remains the closer.
If you follow the Lakers consistently, you know that Kobe has had plenty of nights where nothing seems to be working and then all of a sudden, he shoots himself out of a slump and makes four quick baskets to end a game. Then you know, everyone acknowledges how great he is, despite his age and injuries, the fans go into an "MVP" chant when he goes to the line, and everyone forgets about the consecutive misses that preceded those last four makes. No need to look that far back into the archives, it just happened yesterday. You don't take bits and pieces of Bryant—he comes as a packaged deal—both the good and the bad.
Yes, Bryant should have gone into distributor mode to end the game. Dishing the ball to Gasol and Bynum could've very well made a difference considering how efficient both were offensively, recognizing that they had been instrumental each time the Lakers had crept back in the game after Denver had taken a lead.
Next: Mike Brown takes partial responsibility for Lakers' shortcomings on offense