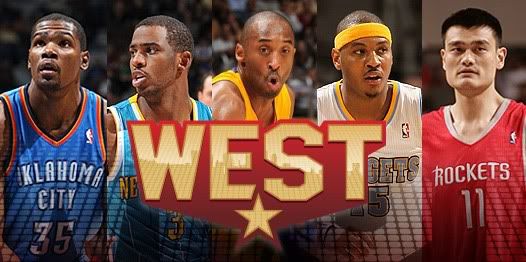 The Western Conference starters for the 2011 NBA All Star game were announced this past Thursday and there weren't any real surprises. As expected, Kobe Bryant was voted on by the fans to his 13th consecutive NBA All-Star game and received the most votes of any of the starters.
Joining Kobe on the starting West squad are New Orleans' Chris Paul, Oklahoma City's Kevin Durant, Denver's Carmelo Anthony and Houston's Yao Ming.
Now that the starters have been established, the most difficult part is left to the 15 Western Conference coaches to pick the remaining 7 reserves for the West All-Star team. This year the West is overflowing with worthy All Star participants and there will be plenty of players that will be billed with the unfortunate All Star snub tag.
Here is how the remaining 8 (7 remaining spots and Yao Ming's replacement) Western Conference All Star Reserves will be selected:
The 15 Western Conference head coaches will vote for any 7 players from the Western Conference teams with the exception of a player from their own team.
They will need to vote for at least 2 forwards, 2 guards, one center and the 2 remaining spots being open for any position.
They will rank their choices from 1 through 7.
The great thing about the coaches' vote is that unlike the fan vote, they aren't relegated to voting from a list of players at a certain position; meaning that they can name a forward a

nd

place him in the center position if they so choose. (This was done last year when the coaches voted for

Pau

Gasol

as the lone center for the Western All Stars despite playing primarily the forward position a

nd

being listed as a forward on the fan ballot)
David Stern will select all injury replacements for the All Star team after the announcement of the reserves. As of when this was written,

Yao

Ming is the only player that will not be able to atte

nd

the All Star game a

nd

Stern will ha

nd

pick his replacement.
The results will be announced on TNT this coming Thursday, February 3rd, prior to the start of the Miami/Orlando game.
The Los Angeles basketball fan base is especially interested in the announcement of the remaining West All Star squad as both local teams have a few players that deserve some All Star consideration; being that Los Angeles is hosting this year's All Star game, both Clipper and Laker fans might have a chance to cheer on their hometown heroes up close at Staples Center.
So will we see Odom, Bynum or Gasol join Kobe at the All Star Game?
Is it possible that we'll have both L.A. teams represented on All Star Game day at Staples?
Let's take a look at this year's potential NBA All Star cast.
Next: Close but not quite