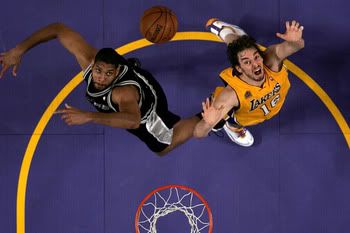 Absolute locks to make the team:
Pau Gasol, center, Lakers: With the way that Gasol has been playing recently its no wonder that Gasol has openly questioned his chances of making this year's All Star team. Pau need not worry as there won't be any denying him from making his third straight appearance as an All Star in a Laker uniform. Pau is well respected by the coaches and is considered to be the most skilled big man in the game. He is coming off two straight championships and coaches aren't falling for the Lakers being in their usual hibernation mode half way through the season. He'll be listed as a center to make room for the surplus of All Star worthy forwards.
Deron Williams, guard, Jazz: Prior to the recent swoon of the Jazz Deron Williams was putting together a MVP year by leading the Jazz to the upper bracket of the West playoff picture despite losing 3 starters from last year. Deron has dropped about 1 assist a game from last year but has increased his scoring by more than 3 points to 21.9, so he has obviously decided to take this Jazz team on his back. He is in the discussion of being the best point guard in the league right now and those type of talents aren't left off the All Star team.
Tim Duncan, forward, Spurs: A slight decline in his production will not keep the future Hall of Famer and best Power Forward in history (arguably) from getting either the coaches or David Stern's vote. Tim will make the squad based on reputation and team success, not production.
Manu Ginobli, guard, Spurs: Manu appears to be back to form and healthy for the first time in a few years. He has played in all of San Antonio's 47 games this year and has arguably been the biggest factor in the Spurs resurgence to the top of the West. His production doesn't jump out at you but he plays on a team with balance and opportunity for putting up big numbers just isn't there. Like Kobe, Manu is the Spur's closer and big play guy. The Spurs impressive first half record will warrant at least 2 Spurs and my money is on Manu being named over Parker.
Dirk Nowitzki, forward, Mavs: Dirk showed his importance to the Dallas team when they went 2-7 while he was out with a knee injury. His numbers will garner MVP attention as he ranks 10th in the league in scoring while shooting impressively at a high efficiency from both the field and 3 point range; 52% and 41% respectively.
Russell Westbrook, guard, Thunder: He will no doubt make his first of many All Star game this year. The guy is putting up monster numbers on a team that will compete for one of the top 4 seeds in the West. Russell is the only player in the league this year that is averaging at least 8 assist and 5 rebounds per game. Durant might get all the pub as the #1 guy but Westbrook is making a strong case for being #1b on this Thunder team. Laker fans know of his talents all too well as it was Russell, not Durant, that was killing the Lakers in last years first round series against the Thunder.
Next: On the Bubble