Dallas Mavericks: Jason Terry and Mark Cuban.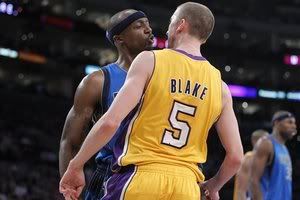 Prior to the March 31st game where the Lakers abused the Mavs for 48 minutes, Jason Terry was providing bulletin board material in interview with an ESPN radio station. He was quoted saying "I don't think Kobe Bryant wants to chase me or Roddy Beaubois around that court all night" "I just don't think they can do it. They're a little older in the back court…I'd love to see it happen".
Late in that game, when the game was well out of reach frustration reached its tipping point in Terry and he decided to take it out on Steve Blake by pushing him in the back causing Blake to drop to the floor. Matt Barnes didn't take kindly to Terry's act and began jawing with Terry. In the end the two were separated, 5 players were ejected and Barnes earned a one game suspension.
Terry wasn't done talking as in an interview with Colin Cowherd after the game he called Matt Barnes "The Charminator" because as he put it "That is a guy who is soft as Charmin toilet paper".
Matt Barnes responded to Terry's verbal shot via Twitter "Also another thing NO ONES worried bout wat Jason Terry is talkn bout everyone remembers the 07 season," , "Me & the Golden St homies laid out the blueprint on how to beat Dallas.. "PUNK'EM" Aint #@?! changed homey.. So enough w/the small talk"
In this match up it wasn't just the players exchanging insults as Phil Jackson and Mark Cuban have a long history of doing the same.
In January, Mark Cuban was quoted referring to Phil Jackson as "Jeanie Buss' boy toy" in response to Phil stating his opinion on how the Caron Butler injury would hurt the Dallas Mavericks.
Recently, Phil Jackson ripped Cuban by stating "I know that Mark likes to prick the skin of people, but he's not a player. He just sits behind the bench with his sun-tanned face and tries to make comments like that,".  Phil was responding to Cuban's ribbing of Ron Artest and how he would welcome Ron having the ball more often in the Lakers' offense. "Anything that puts the ball in Ron Artest's hands is always a good thing," said Cuban. He added "You can tell him that I'll even take him out for ice cream. Of all the choices you have on that team, you want Ron Artest making the decisions in the triangle."
The Lakers, especially Barnes and Phil Jackson, would love a chance to finally silence the outspoken Cuban and Terry for good. With all of scathing words being spit back and forth from both teams in the regular season, you can only imagine what would be said if the two meet up in the high stakes of a playoff match up. It would most certainly be entertaining to watch.