7) Magic game with Flu.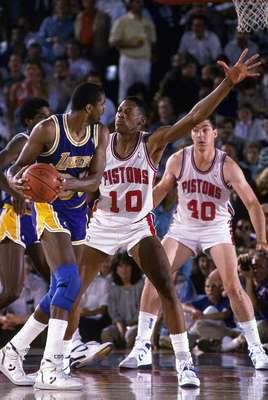 The Lakers were coming off a Game 1 loss to the Detriot Pistons in the 1988 NBA Finals and were facing the possibility of going down 0 – 2 heading back for games 3 through in Detroit. The Lakers were in a must win situation and needed everything they could get from their floor leader Magic Johnson. The problem was that Magic came into the game battling the flu and the Lakers weren't sure just how much they could get from him.
While early on in the game it was apparent that Magic was feeling the effects of his ailment by looking slow and tired as he gasped for air and lumbered down the court throughout the first half. He picked it up dramatically in the 2nd half and was able to finish strong.
The Lakers took game 2 with the help of Magic's 11 assist and 23 points on 7 for 12 shooting. The Lakers would eventually win the series in 7 games.
This game by Magic was overshadowed 9 years later by Micheal Jordon in his fight with the stomach flu in the 1997 NBA finals Game 5 against the Utah Jazz in what is now known as the "flu game". Magic's game is now forgotten by most outside of Lakerdom because it lacked Jordon's histrionics and great photo ops like the sideline vomiting or being carried out on shoulders by teammates at the end of the game.
While MJ's performance was truly memorable, it was Magic's that originated the big game performance while battling the flu.