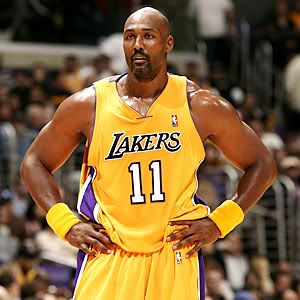 6) Karl Malone in 2004 NBA Finals
The Lakers were coming into the 2004 NBA Finals as big favorites against the Eastern Conference champion Detroit Pistons. This was the "Lakers Reloaded" team which saw the Lakers bring in future Hall of Famers Karl Malone and Gary Payton to help the Shaq/Kobe Lakers take back the NBA championship which had been taken away by the Spurs the year before.
In Game 2 of the Finals Malone left the game in the 2nd quarter with a knee injury but would return to finish the game shortly after. Malone showed his fortitude by playing 39 minutes on a bum knee but showed that he just wasn't right after sustaining the injury.
After the game his injury was diagnosed as a MCL strain (same diagnosis as Jay Cutler) which he had injured earlier in the season.
The injury didn't deter Karl as he continued to tough it out until Game 4 of the series when he proved to be ineffective on just one leg against an athletic Rasheed Wallace and the swarming defense of the Pistons.
Many believe, including myself, that had Malone not gotten hurt Lakers would have defeated the Pistons. Considering that Malone had chased his first NBA championship for 19 long years, there is no way that he would not have sat out unless the injury was so severe that he couldn't step out on that court and be effective.
It wasn't meant to be as the Lakers lost to the Pistons in five games.