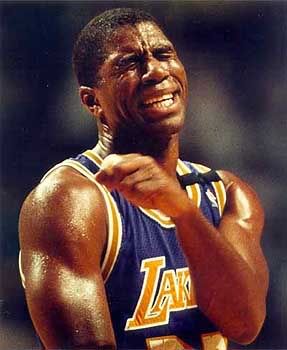 5). Magic hurt in Game 2 of 1989 NBA Finals; tries to play in Game 3.
It was the Laker's quest for a 3-peat in the 1989 NBA Finals where they met the Detriot Pistons for the second straight year. The series got off to a horrible start for the Lakers as not only did they lose Game 1, they lost Byron Scott to a hamstring injury.
In Game 2, the Lakers hopes of getting back into the series were dashed when Magic started limping badly due to a pulled hamstring in the 3rd quarter. Magic was defiant about sitting out and had to be forced back into the locker room. Magic showed his will and toughness by giving it a go in Game 3 but he just couldn't bear the pain, and checked out for the series.
Unlike Cutler, Magic was engaged in every game and vocal on the sidelines in hopes of cheering on his team to victory. It proved to not be enough as the Pistons swept the Lakers to win the NBA championship that year.
Next: One legged performance