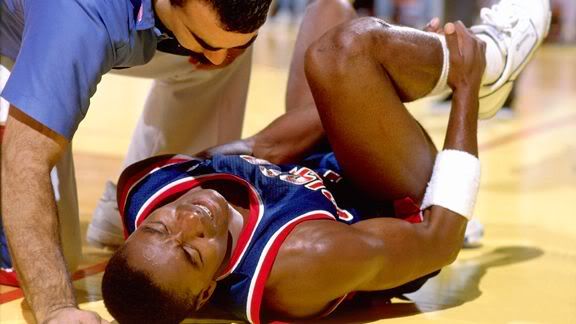 4) Isiah Thomas scoring binge on one leg in Game 6 of the 1988 NBA Finals
While we usually want to focus on Laker moments, there are certain great performances from Laker opponents that just can't be ignored and are as much a part of Laker history as those accomplished by the ones wearing purple and gold.
One of those examples comes in Game 6 of the 1988 NBA Finals where the Lakers took on the Detriot Pistons in their famous back to back championship run.
The Lakers found themselves trying to stop a scorching hot Isiah Thomas in the 3rd quarter who had just reeled off 14 straight points and it seemed like the only thing that was going to help the Lakers stop the onslaught was divine intervention.
It had appeared that the Laker's prayers were answered when Thomas rolled an ankle on Cooper's foot in the 3rd quarter and went to the locker room to be attended to; however, in a showcase of undeniable will, Thomas returned in a matter of seconds and continued his torrid scoring pace, this time on just one leg. Isiah ended up setting an NBA Finals record in the quarter by scoring 25 miraculous points.
Thomas ended the game with 43 points but his inspirational showing wasn't enough as the Pistons lost Game 6 and eventually the series the very next game.