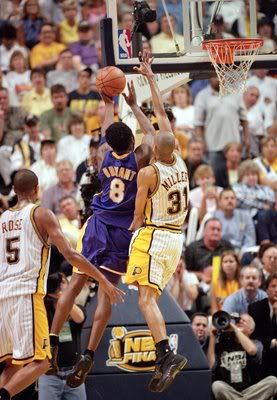 2) 2000 NBA Finals; Lakers v. Pacers. Kobe Bryant
The Lakers had just come off a convincing win in Game 1 of the 2000 NBA Finals against the Pacers when potential disaster occurred in the 2nd quarter of Game 2. Kobe Bryant rolls an ankle and has to leave the game. The Lakers were able to finish off the Pacers without Kobe in Game 2 but sorely missed him when facing the Pacers in Indiana in Game 3 as the Pacers took their first game of the series.
In what were the first signs of Kobe's incredible will and ability to play effectively through pain, Kobe returned in Game 4. Kobe started off slowly and showed the effects of the ankle injury early on, but after Shaq fouls out in overtime, Kobe takes over by knocking down jumper after jumper to take down the Pacers.
The Lakers won Game 4 behind Kobe's clutch performance, and went on to take the first of three straight NBA championships during the Shaq/Kobe era.
Next: Drew proves his worth