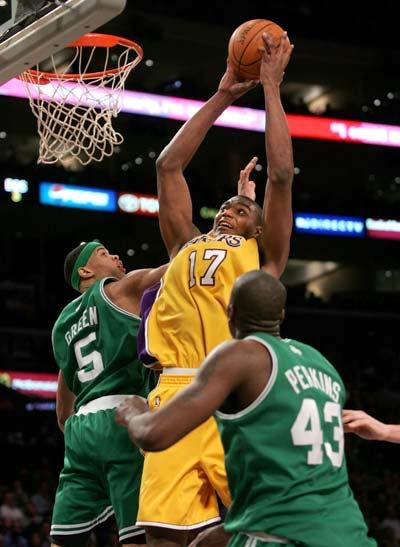 1) Andrew Bynum playing Hurt in the 2010 NBA Playoffs
In what was one of the great moments of perseverance and selflessness, Andrew Bynum digs deep and plays through pain after suffering another knee injury in Game 6 of the first round series against the Oklahoma City Thunder in the 2010 Playoffs. Despite being diagnosed with a small tear in his meniscus Bynum decides to continue to play the rest of the grueling playoffs to endure constant banging, pulling, stomping and running on that torn knee.
This wasn't Bynum grinding it out for one or two games with the pain, but 17 bruising playoff games.
People might make the case that the knee injury was not that severe and shouldn't have kept him out considering the importance of the moment. Well, first off that is what people are currently saying about Jay Cutler, yet he sat out of the most important game of the season due to a knee injury.
Secondly, the injury was severe enough that it required almost 6 months of rehab and recovery time, causing Drew to miss training camp, the pre-season, and the first 24 games of the regular season.
What I find surprising is how little fanfare Andrew Bynum has received for putting his body through the pain of playing with a tear in his knee and the tedious preparation and treatment involved with such a knee injury.
In addition, the 22 year old placed his bright future at risk by playing with an injury that could have potentially been made worse just for the chance to help the Lakers win a championship.
As it turned out, the Lakers needed every bit of whatever Bynum was able to provide as they barely escaped defeat by the Boston Celtics in the NBA Finals last year. The Lakers went on to narrowly defeat Boston in 7 games and it would be hard to convince anyone that the Lakers could have done that without the contributions and presence of Andrew Bynum.
I for one will not ignore the courage and toughness that Drew showed for the Lakers in the 2010 Laker championship run as I place this as the greatest example of grit (aka un-Cutler-like) in Laker History.