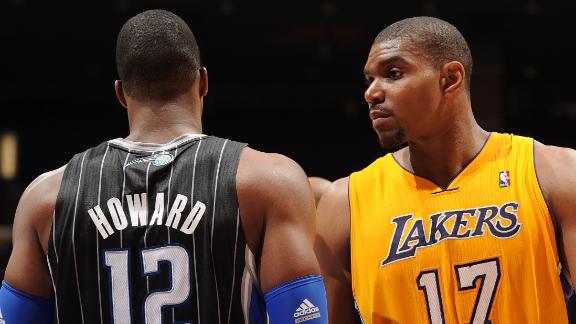 When asked who is the best center in the NBA today, most people respond automatically with Dwight Howard of the Orlando Magic, but when you really thought about; Andrew Bynum of the Los Angeles Lakers is not far behind Dwight.
It's January 20, 2012, and the Los Angeles Lakers are in Orlando to take on Dwight Howard and the Magic as the two best active NBA centers have a chance to square off against each other. One relies on a combination of power and speed, while the other depends on strength and position.
Yes, Dwight Howard is a 5-time NBA All-Star, the reigning 3-time NBA Defensive Player of the Year, has missed only seven regular season games in his seven-year career, and is a slam-dunk champion. He averages 19.4 points, 14.8 rebounds, and 2.3 blocks per game in 12 NBA games during this shortened 2011-12 season. It is hard to argue with the numbers and success that he has in becoming one of the most dominant centers today. The punishment he takes every game is absurd, yet he still has the drive to leave it all on the court in pursuit of a victory. So how could one possibly dispute Dwight Howard as the best center?
Well that's because of a guy out west by the name of Andrew Bynum.
At the young age of 17, Andrew Bynum was drafted as the 10th overall pick in 2005 after his senior year of high school. Like Dwight Howard, he bypassed college for the NBA. Despite Bynum's inability to stay healthy since the 2007-08 season, his numbers have improved every year. After serving his suspension issued by the league for giving former Dallas Mavericks' J.J. Barea a forearm to the chest, he sat out the first four games of this season.  In spite of this, Bynum has averaged his highest career total in points and rebounds, 16.3 points and 13.8 rebounds, in 12 games. He has become more aggressive offensively while still being a force on the defensive end. While he may not be the star player on his team like Dwight Howard is for the Magic, Bynum is a force to be reckoned with.
—- Join our Lakers Nation ONLY $250 Fantasy BBall FreeRoll – 30% Deposit Code "LN2011" Hurry! —-
Both centers have been trained by former NBA greats. Dwight has been mentored by Patrick Ewing, whereas Bynum has been taught by Kareem Abdul-Jabber. Due to their body differences, Dwight being listed at 6'11" 245lbs, and Bynum being at 7'1" 285lbs, they practice different techniques utilizing their strengths. Because Dwight is lighter, quicker, can jump higher, and is more agile, he developed a style of play built around his speed rather than his strength; whereas Bynum learned how to use his height and muscle to become more of a center like Shaquille O'Neal.
Both Dwight Howard and Andrew Bynum possess power that other centers cannot possibly prepare for, nor match. However, due to their individual body makeup, they are complete opposite players. Dwight Howard is an athletic big man in the sense that he is more capable of playing a face up game, rather than just playing with his back to the basket game and relying on position. A position game is where a player battles to get to a certain spot on the floor, and to have a specific body alignment that allows him multiple different scoring moves to beat his opponent. Bynum uses his height and size to his advantage to establish position against his defender. He is more comfortable and effective with his back to the basket than Dwight Howard.
When trying to decide who is the better player between Dwight Howard and Andrew Bynum, one most choose what qualities are more important for a big man to have. The key factor between the two is durability, which Bynum clearly does not have at this stage in his career. The security Dwight Howard gives his team knowing that he can take the punishment of an 82-game regular season, and then have the stamina to play in the playoffs, is huge. The fact that Magic fans and players do not have to hold their breath every time Dwight jumps or falls to the ground gives them a peace of mind. Then there is athleticism versus muscle. The center position has always been closely related to power, and even though Dwight has the strength, he does not compare body mass with Bynum. Bynum is thicker from head to toe making him stronger and more difficult to defend in the post. Andrew Bynum's offensive skills are also much more polished than those of Dwight Howard's. He is a more reliable player than Dwight Howard on the offensive end when his team needs to score a basket.
With that said, Andrew Bynum is a good step behind Dwight when it comes to playing defense. Not only is Dwight a 3-time NBA Defensive Player of the Year, but also one of the league's best defensive players period. Banging bodies down low is not the right way to play defense; instead, it is more the recipe for how to foul out of a game. This is where Dwight's speed and agility give him the edge, and his defensive awards prove it.
In last season's two meetings, Dwight averaged 26.5 points and 14 rebounds versus Andrew Bynum's 13.5 points and 13.5 rebounds. Look for this year's battle to be closer as Bynum's minutes and role have increased under new head coach Mike Brown.
The question left to decide is, whom would you rather have?