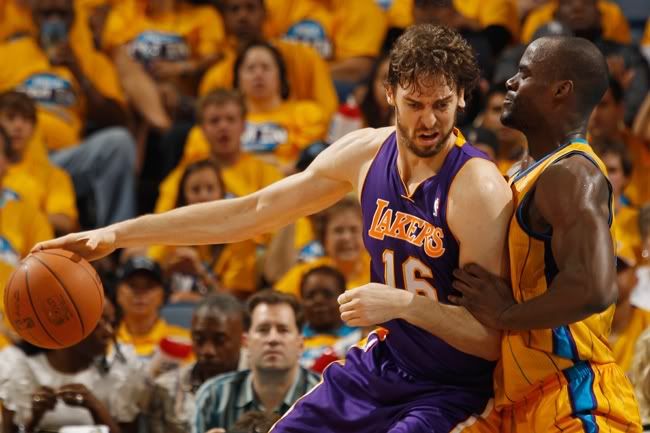 Going in to the series with New Orleans, the Lakers obvious advantage was their size and length of their front court. A simple eye ball test will tell you that the Lakers dwarf the diminutive starting front line of Emeka Okafor and Carl Landry who are listed very generously at 6'10 and 6'9 respectively.
With the disparity in size, it is no wonder that the Lakers were heavy favorites and picked by most to end the series in 4 to no more than 5 games.
Then the series started and we were reminded that games aren't played on paper. The Lakers bigs were surprisingly manhandled at the outset of game 1. The Lakers' big men (in game 1 that term is used loosely) appeared more like hostesses that greet you at the entrance of restaurant and show you to your table than defenders. The Lakers' front line courteously escorted the Hornets to rim where they feasted on 52 points in the paint to the Lakers 34 in game one.
The Lakers interior defense improved in the series and they out rebounded the Hornets in all but one game. However, a theme throughout the series was the physical play of Landry, Okafor and Aaron Grey taking Gasol, not just out of his comfort zone, but at times, completely out of the game.
With Pau struggling to take advantage of his size advantage and being a complete non factor at times, the Lakers were without their #2 scorer and leading rebounder. The Lakers in a 0 – 1 hole, they desperately needed somebody to step up and play the Robin role to Kobe's Batman that Gasol usually fills.
[phpbay]Los Angeles Lakers, 3, "", ""[/phpbay]