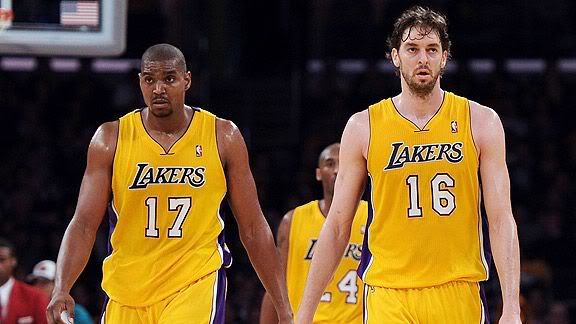 As we all know by now, that player that answer the call for a #2 guy was Andrew Bynum.
When Kobe looked for his usually reliable scoring complement in Pau, it was Drew that ended up 2nd in scoring in their first round series.
It wasn't Pau or Odom, but Drew that led the team in rebounding and nobody was more efficient from the field against the Hornets.
More importantly, he showed the toughness in the paint that Pau lacked in this series. While Pau was routinely being pushed out of position and being relegated to a mid range jump shooter, Drew held his ground in the paint.
With Gasol practically non existent in the first 2 games of the series, Bynum produced and continued to do so for the duration of the series. The game to game consistency that was a staple for Pau was exhibited by Bynum instead.
With the way Pau played in the first round series against the Hornets a troubling question needs to be asked. How could the Lakers have won that series without Bynum's performance? The answer is that they likely wouldn't have.
The vital role played in the Hornets series is a testament to how Bynum has grown as a player and quite possibly blossomed into a star like Gasol. It's probably premature to anoint someone a star after only one series, but recognition of the great performance is deserved.
At this point, we really should now move passed what Pau didn't do in the last series being that the Lakers ultimately prevailed and we should now focus on what he can do against Dallas. The Mavericks will present a bigger, longer and definitely more athletic front line than that of New Orleans. You have to think if Pau had a hard time against the vertically challenged Hornets, how in the world is he going to produce against the likes of Tyson Chandler and Brendan Haywood.
We wont have an answer until the Mavs v. Lakers series begins to take shape. It could very well be that the first round series against the Hornets for Pau was a complete aberration and Paul will begin to resemble his usual productive and skilled self. However, if he doesn't, we did learn that the Lakers have a fully capable and willing big man to step right into his role as #2.
[phpbay]Los Angeles Lakers, 3, "", ""[/phpbay]